Charter flights from Birmingham to China are announced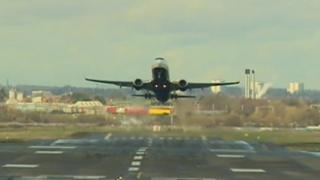 A growing Chinese tourism trade is behind plans to introduce a charter flight from Birmingham Airport, officials have said.
The charter route - the UK's first between the countries - will operate over three days in July and August.
The airport said the flights would help Chinese visitors access popular destinations like the Cotswolds, the Lake District and Birmingham.
It said the service was made possible by its runway extension.
Although it is currently possible to fly to China via scheduled services from London, the flights will be the first to operate from outside the capital.
The 248 seat A330-200 aircraft will fly from Beijing to Birmingham on three dates between 22 July and 6 August.
'Important tourist destination'
The service will be operated by Chinese travel company Caissa.
Their chief executive, Chen Xiaobing, said Birmingham was an "important tourist destination" for China.
The size of the Chinese tourism market has tripled over the past 10 years and is estimated to be worth around £15m to the West Midlands economy, with Birmingham said to be the fourth most popular destination for Chinese visitors in England.
There will also be package holidays available for British tourists seeking to visit China.
Sandie Dawe, from Visit Britain, said: "Britain is attracting more Chinese travellers than ever before.
"The Birmingham route will encourage Chinese visitors to explore new areas of Britain and help to achieve our target of welcoming 650,000 Chinese visits a year by 2020."
Secretary of state for culture, media and sport, Maria Miller, said the route was "great news for Birmingham".
The airport said the service to China will be seasonal but it hopes it will be extended.
Paul Kehoe, Birmingham Airport's chief executive, said the route would be "an alternative gateway" for people from China wanting to visit UK destinations.