Taxi breakdown means trains are cancelled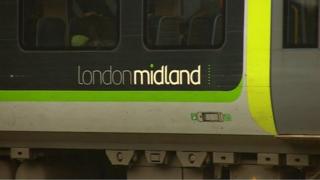 Passengers say they are "disgusted" two London Midland trains were cancelled because their conductors were stuck in a broken-down taxi within walking distance of the station.
The two services - from Birmingham New Street to Hereford and Great Malvern - were cancelled on Tuesday.
The two conductors failed to make the 0.5-mile (800m) journey from a previous job at Snow Hill station.
London Midland said "health and safety" had prevented the staff from walking.
'Seems mad'
However, passengers said they thought the situation was "ridiculous".
Daniel Mander, 19, a student from Bromsgrove, is a regular commuter on the service.
He said: "A lot of people were very angry. It seems mad. I walk around Birmingham quite a bit and the two stations are only a few minutes apart."
Lindsey Preece, from London Midland, said she apologised to the passengers who were affected.
She said the conductors were unable to leave the taxi because they were carrying money and equipment.
"You don't want to be walking down the street with your takings," she said. "Somebody could be attacked and robbed at any point and we want to look after our staff.
"This is very much a one-off incident. It's not something that we have ever had happen before. We will be looking at the procedure to see if there's something else we could do to prevent this."
She said affected passengers would be able to claim compensation.