'No refunds' for drivers hit with Birmingham bus lane fines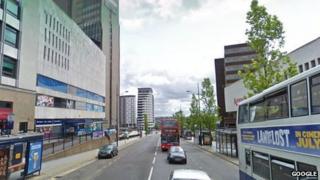 Drivers who were fined for using 'confusing' bus lanes in Birmingham will not be given automatic refunds, the city council has said.
A tribunal upheld two appeals against the penalties on Wednesday after ruling the signs were "not adequate".
About 100,000 fines have been issued since the council erected 10 city centre cameras in September.
Campaigners said all the money should be paid back but the authority insists that drivers must appeal individually.
The Independent Traffic Penalty Tribunal found signs were "inadequate or confusing" in three places: the Priory Queensway from Colmore Circus towards Old Square, St Martin's Queensway and Moor Street Queensway.
New signs
Councillor Tahir Ali said: "We will not be paying the money back... the adjudicator must judge each case on its own merits.
"Those that have appealed, a few have come through and have been upheld on the details of their own individual cases."
Mr Ali said people who had already paid the fine had waived their right to appeal.
Ben Cheney, who has campaigned against the fines, was one of the two drivers who successfully appealed against their £60 penalty.
"If the signage was inadequate for me then its inadequate for the other people and the council should give them their money back," he said.
"Over the past four months, media reports have pointed out to the council that there was something wrong with the signs and they've maintained that people are breaking the law and should be fined, which is wrong."
The Birmingham Mail, which broke the story in November, published complaints from drivers, some of whom were visiting the nearby children's hospital.
The city council said new, clearer warning signs would be put up at the three locations later.