Birmingham CCTV cameras 'to be switched off' to save money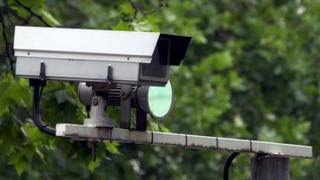 A fifth of Birmingham's CCTV cameras could be switched off to save money, the city council has said.
The authority is planning to stop operating 53 of its 276 cameras in areas including Aston, Ladywood and Tyburn to save about £185,000 a year.
It is also carrying out a review of 80 city centre cameras.
People opposed to the proposal say it will make the streets more dangerous, but the council insists it will not cause a rise in crime.
Councillors will make a decision on the plans next month and, if approved, the cameras will be switched off later in the year.
The Labour-run authority said it had reviewed every camera based on crime levels, its location and how much it was used by police and CCTV operators.
'Public safety is key'
Labour councillor James McKay, cabinet member for a green, safe and smart city, said the authority had received guidance from the government to remove cameras that were "not being actively used in the fight against crime".
"Each camera costs over £3,000 a year to operate and run," he said. "We need to make sure every pound we spend is effective.
"I don't think we'll see an effect in the fight against crime because, by definition, those cameras that are coming out are the ones that are not part of that fight."
Desmond Jaddoo, who will stand as an independent for election as the city councillor for Ladywood in the next election, said: "It's very well to say these are cameras in low crime areas but is that as a result of having CCTV in that area?
"Public safety is absolutely key and turning off cameras just to save money could lead to more anti-social behaviour.
"That will be a further drain on resources and finances."
The council is to make budget cuts of £85.7m in 2014-15. Its budget for the previous year was £3.4bn.
West Midlands Police said it had worked with the city council to carry out the review of the CCTV cameras.
Assistant Chief Constable Garry Forsyth said: "We understand the financial challenge faced [by the council].
"We are satisfied that we have been consulted as part of the review, which has enabled us to work with them to minimise the impact to our communities from crime and anti-social behaviour."