Azim Azam stabbing: Killer admits knife murder after bus dispute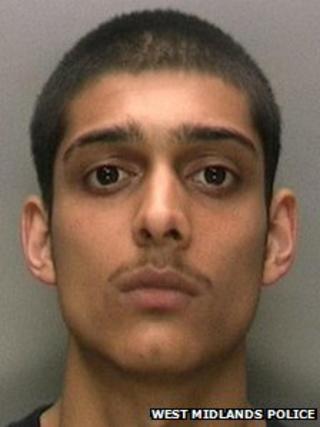 An 18-year-old man has admitted murdering a teenage college student who was stabbed after a dispute on a bus.
Azim Azam, 16, died in September after he was found collapsed near a bus stop in the Moseley area of Birmingham.
His killer, Azeem Akhtar, had been due to stand trial next month but changed his plea to guilty during a brief hearing at Birmingham Crown Court.
Akhtar, from Kings Heath, was remanded in custody and will be sentenced at the same court on 17 March.
Det Supt Mark Payne said: "These two teenagers clearly didn't get on - though quite what caused the spat is unclear - and it came to a head when they saw each other on the bus that fateful morning."
West Midlands Police said Akhtar shouted abuse at Mr Azam after boarding the bus at around 08:25 GMT and CCTV footage showed him "discretely pulling on a pair of black gloves".
'Lost and heartbroken'
Witnesses describe how Akhtar shoved his way past people standing in the aisle and, as the 16-year-old stepped off the bus, he stabbed him in the chest.
The teenager initially ran off but after a short distance slumped to the ground.
A doctor tried reviving him as he lay on the pavement but he died later in hospital.
Police said Mr Azam was on his way to his first full day at Bournville College on 16 September when he encountered Akhtar on a bus in Moseley.
Det Supt Payne described this as "a terribly tragic case" and said the victim had just enrolled on a sports course and was hoping it would pave the way for a career teaching PE.
In a statement the victim's family said they "still feel lost and heartbroken over the loss of Azim".
"Nothing will ever bring our boy back but some peace may be found knowing the person who killed him isn't free to walk the streets carrying a knife, putting further lives at risk," it continued.