Birmingham anti badger cull rally attracts 1,000 protestors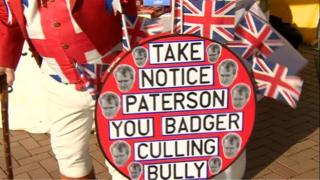 About 1,000 people have staged a protest march in Birmingham city centre, calling on the government to stop culling badgers.
Amongst those attending were supporters of Care for the Wild, who said the campaign was gaining support in towns and cities as well as in rural areas.
Spokesman Dominic Dyer said badgers should be vaccinated, not killed.
Many ministers and farmers believe badger culling is needed to control TB in cattle.
Just over half the planned number of badgers were shot in a pilot cull in Gloucestershire and Somerset earlier this year - a total of 1,861.
Organisers of the march had said they were expecting 2,000 supporters, but were pleased with the "determination" of those who attended.
Rally organiser Julie Buxton from Birmingham said she had to get involved when she heard about culling.
"If an ordinary person like me can come out [and demonstrate] then the government should be listening," she added.
The Department for Food and Rural Affairs (Defra) has said the cull is based on sound scientific research, while campaigners claim there is no evidence to support it.