Police voicemail victim Alex Faragher demands sackings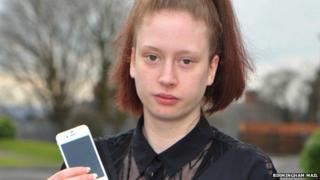 A woman who received an abusive voicemail allegedly left by two police officers says they should be sacked.
Alex Faragher, 19, from Birmingham, contacted police over a domestic violence allegation in January.
But when officers called her phone they could not get through, and mistakenly left a recording of their conversation.
West Midlands Police has apologised and two officers have been placed on restricted duties pending a gross misconduct investigation.
Shock and rage
On the expletive-strewn recording, the men are heard calling Ms Faragher a "slag". They also discuss drafting a statement themselves and then "getting the bitch to sign it".
Ms Faragher said she had been left "very upset" by the incident.
"I was shocked, I was raging, it was disgusting... what has been said about me, I feel victimised," she said.
Ms Faragher said she did not think it was right that the officers were still working.
"Police officers think they have more rights than anyone else because they wear a uniform. I don't think they should," she said.
She added that she would not ring the police if she needed them in the future.
The domestic abuse allegation has since been discontinued.