Resign calls for Wolverhampton Council job cut bosses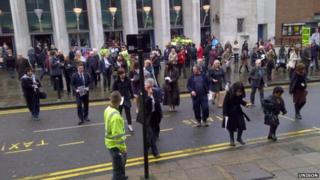 The leaders of a council which is axing 2,000 staff should resign, opposition councillors said.
Labour-run Wolverhampton City Council said it had been forced to make the "painful" decision because it needed to save £123m over the next five years.
But Liberal Democrats said councillors Roger Lawrence and Andrew Johnson should quit, as well as the council's chief executive Simon Warren.
Mr Lawrence, the council leader, said the calls were a "low blow".
'A moral issue'
Liberal Democrat councillor Malcolm Gwinnett said numerous opportunities had been missed to save money on projects like the civic centre refurbishment and the city transport regeneration scheme.
"To lose 2,000 staff is absolutely ridiculous," he said.
"What's it going to leave us with and how are we going to run our authority?
"It's totally impossible. The whole thing has been totally mismanaged. I blame the chief executive and the Labour group and I think there should be resignations. There's a moral issue there."
Neville Patten, the leader of the Conservative group on the council, said senior civil servants on the council should be considering their positions.
However, with regard to the Labour group councillors, he added: "I can understand where the Liberals are coming from but resignations won't resolve the financial situation.
"The councillors have got to work with the mistakes they have made over the years to bring Wolverhampton back to where it needs to be."
The authority said it had originally drawn up plans to save £98m by 2019 but it had now calculated the figure would be £123m.
It had previously said it was at risk of "becoming insolvent".
Mr Lawrence said: "It is a low blow for the Conservatives and Liberal Democrats to target officials who are politically neutral and can't get embroiled in this debate.
"It is blindingly obvious they are trying to deflect attention away from the fact their government have made savage cuts to the grant it pays to Wolverhampton City Council - we have lost 52% of our income.
"I would challenge them to explain to me how any of the £147m that has been taken from our budget is the fault of our chief executive or any of our other officers."
He added he would urge the opposition to "stop picking easy targets and stand up for Wolverhampton".