Wolverhampton City Council says up to 2,000 jobs will go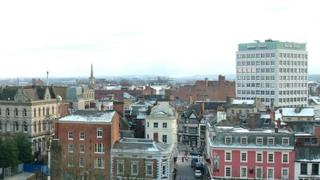 Up to 2,000 jobs are to be axed by a council because cuts are "worse than previously thought".
Wolverhampton City Council has increased the figure from 1,400 jobs because it says it needs to make £123m savings over the next five years.
The Labour-run council is also raising council tax by 2% but said it had no choice but to shed staff.
The Conservative group said the council's financial problems had stemmed from overspending.
'Targeting poorer areas'
Karen Leonard of the GMB said: "Today's announcement of a jobs cull in Wolverhampton is a devastating blow to GMB members, who now face an uncertain future. Jobs and working hours are under threat.
"Those who survive the jobs cull can expect a pay freeze, equating to a real terms pay cut, and an ever increasing workload."
The authority said it had originally drawn up plans to save £98m by 2019 but it had now calculated the figure would be £123m.
It had previously said it was at risk of "becoming insolvent".
Council leader Roger Lawrence said: "We know we are going to lose employees across the council. These are not going to be easy decisions and it's going to have an impact on every area of service because there is no area that can be protected."
Andrew Johnson, cabinet member for resources, said: "We have lost a huge proportion of the main source of our income, which is the grant from the government. That's why we have to make these job cuts."
He said the jobs would be lost over the next five years although most would go in the next two years.
He added: "The job cuts will be across the council except in some essential services such as children's social work. We are offering voluntary redundancy."
He said he felt the government cuts were "targeting poorer areas of the country".
"Wolverhampton is the 20th most deprived area in England," Mr Johnson said. "We have been targeted more than the wealthy areas.
"But we have a duty to the people of Wolverhampton to set a balanced budget and we are determined to do that."
'Why Wolverhampton?'
Council employees in the city told the BBC they did not understand the decision.
Administrative assistant Gloria Vincent, 59, has worked at the council for 15 years.
"We feel absolutely shocked because we are losing our jobs, our livelihood," she said.
"The people [on the] lower scale, they're treated the worst really because our jobs are in jeopardy more than the other jobs in the council."
She said flexi-time would no longer be available for the employees and working hours would be reduced.
Care home worker Nick, 24, who did not want to give his surname, has worked at the council for four years.
He said his department was working "on such a thin line there is nothing left to cut".
"This is now basically saying 'I'm sorry but we don't care anymore, we don't care about these people that you're looking after'," he said.
"The morale where I work at the moment is pretty low; they've cut my weekend enhancements, they've cut my overtime."
Another worker, who did not want to be identified, said the decision "seems strange".
"The cuts that have come through [from the government] have got to come down to local government, but why Wolverhampton? Who knows?" he asked.
The man said he felt the council would be unprepared in the future to deal with "abnormal" events such as the recent flooding.
"Local authorities may or may not be able to cope with what comes through, because there's nobody in the buildings to be able to deal with these things," he said.
'Where has the money gone?'
Wendy Thompson, shadow member for resources, said the Conservative opposition had not been aware 2,000 staff were going.
"We heard it from the local newspaper before we heard it from the council and we were shocked," she said.
"We are sick to death of hearing the council blame the government. All the other councils have the same government but they are not in the same panic Wolverhampton appears to be in.
"If they had listened to us over the past few years, they would have realised they needed to be more careful about their spending.
"If you stood in the middle of the city centre, you would have to ask yourself, 'How could they be in all this debt? Where has the money gone?'"