Birmingham thieves leave 'footprint' on victim's face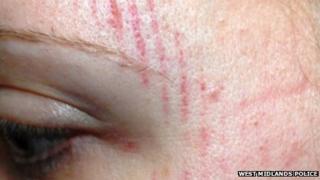 CCTV images have been released by police looking for teenagers who stamped so hard on a woman's head they left a "footprint".
The woman was walking in Nechells Parkway, Birmingham, when she was dragged to the ground from behind and then stamped on and kicked, West Midlands Police said.
The 25-year-old's handbag was stolen.
Police described those responsible for the 20 January attack as "laughing teenage thugs".
The victim, Sam, said: "It was a scary ordeal and sometimes if I am walking down the street on my own I get a little bit panicky.
Det Cons Tom Oppenkowski, from Birmingham CID, said: "Before and after the attack the teenagers were laughing almost as if this was a sport for them.
"Sam needed hospital treatment for her injuries and is obviously still traumatised by her ordeal."