Birmingham City Council confirms 1,000 jobs to go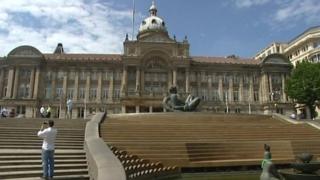 A further 1,000 jobs will go next year at Birmingham City Council, the authority has confirmed.
It said central government cuts meant it would need to make a total of £822m in savings by 2018.
The authority plans to increase council tax by 1.99%. Leader Sir Albert Bore said this was after two-thirds of respondents to its budget consultation were in favour of a rise of 2% or more.
The council said £9.2m would be invested in children's safeguarding.
The authority is to make £85.7m of cuts in 2014-15, a draft budget plan said. Sir Albert said it would have to make "even bigger" cuts in 2015-16, estimated at more than £200m.
Councillors said they were working with the Library of Birmingham Development Trust to achieve a £1.65m saving.
The authority said it was considering cutting the library's opening hours to reduce running costs.
Sir Albert said government cuts had been "unfairly distributed" and Birmingham faced a reduction in spending power per household around twice the national average.
The Labour-run council confirmed the job cuts on Wednesday, which were first revealed in December, after a public consultation.
A full cabinet meeting will be held on 17 February when members will debate and vote on the final budget.
'Completely rethink'
Following consultation the council has made several budget changes.
An extra £1.6m has been made available to services for vulnerable and older people and a one-off £500,000 investment will be made in street-cleaning services.
The council said it would invest £1m in safeguarding, supporting and educating young people.
It also said £2m would be used to fund the city's Parks Service after strong public opposition to proposed cuts to the Park Keepers and Rangers Service.
Sir Albert described the challenge facing the council as "the end of local government as we know it" and said services would be stopped in most areas.
He said: "Significant efficiency savings have been made over a number of years.
"It becomes harder and harder each year and it's been extremely difficult in 2014-15 to maintain the full range of services that have been provided."
He said it was "inevitable" the council would have to decide which optional services to stop in the coming years.
"We have to completely rethink the role and structure of the council," he said.
Local Government Minister Brandon Lewis said the UK's economic recovery meant more jobs were being created and council tax bills were "falling in real terms".
"This Government's carefully-considered reforms have delivered a fair deal to councils helping them achieve greater financial independence so they can deliver sensible savings while protecting front-line services, which we have backed up with £3.8 billion for crucial adult social care reform," he said.