Midlands 'only 50m pool could close'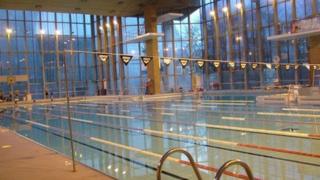 The only 50m pool in the Midlands could be forced to close.
Coventry City Council is proposing a new leisure centre with a 25m pool and water park in the city and then closing the Fairfax Street sport centre - home to an Olympic-size pool.
The new £36m centre would not open until 2019 and keeping the current centre functioning will be "a challenge", the council said.
A six-week consultation over the plans has now begun.
'Not fit-for-purpose'
Councillor Ed Ruane, cabinet member for housing and heritage, said part of the current listed sports centre has been closed off due to the condition of the building.
"We know that giving people the chance to lead fitter, healthier lives is really important," he said.
"Successful sport in our city needs to start in the playground with active, healthy children and move through all levels and ages to include talented individuals and teams, who we can support to achieve success at the highest national and international levels.
'First to get cut'
"We're also determined to invest in our sporting facilities. Coventry Sports Centre is no longer fit for purpose and we have already had to close off some parts of the building."
Councils in Derby, Nottingham and Birmingham are planning to build 50m pools and there is one open in Northampton.
In 2010, Commonwealth gold medallist swimmer Adam Ruckwood quit as Birmingham's chief swimming coach and switched to Coventry in frustration at the lack of a new Olympic-size pool in the city.
Speaking last month about swimming provision in Coventry he said: "I understand the constraints councils are under. Sport and leisure isn't statutory. They don't have to provide it.
"Swimming pools tend to be one of the first things that get cut. You would hope there would be some sort of legacy from the Olympics."
Paralympian Ellie Simmonds relocated from Walsall with her mother to Swansea at the age of 11 so she could train in a 50-metre pool.