Fixed speed cameras to return to Birmingham and Solihull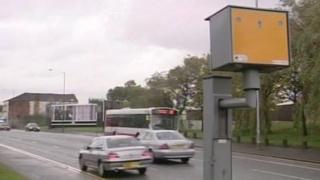 Plans have been revealed to bring back fixed speed cameras to the West Midlands.
The cameras were all turned off last year in a bid to save money.
Now the West Midlands Road Safety Partnership, which includes Birmingham City Council and West Midlands Police, wants to trial 12 fixed cameras in Birmingham and Solihull.
The pilot is expected to begin at the end of this year and last 18 months, a council spokesman said.
If it is successful, the cameras could be rolled out across the region.
The project is being funded by Birmingham City Council and Solihull Council but the costs have not been revealed.
All 304 of the region's speed cameras were switched off in April in order to save about £1m a year. West Midlands Police has been using mobile speed cameras.