Slimma factory tower in Leek demolished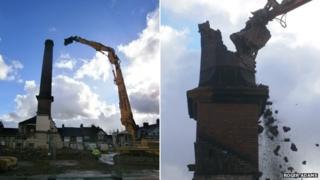 An "iconic" tower at a former factory in Staffordshire has been demolished as part of plans to build houses there.
Cheshire-based developers Renew Land Developments wants to put 20 houses and a block of flats on the former Slimma factory in Barngate Street in Leek.
Staffordshire Moorlands District Council rejected the plans in August over concerns with parking and traffic.
They will be discussed in an open meeting in Leek on Tuesday after an appeal by developers.
Manufacturing at the Slimma factory in Leek, which made women's fashion, finished in 2005 when the company switched production overseas.
'History on the scrapheap'
Kate Shaw, who lives in nearby Waterloo Road, said she was disappointed to see the 40ft (12m) tower demolished.
She said: "It's so sad to see such an iconic landmark pulled down.
"I know history has to change but this was such a prominent building on the Leek skyline and I would've liked to have seen more done to preserve it."
The district council rejected the housing plans after receiving more than 70 objections from local people about an increase in traffic and concerns the designs "were not in keeping with the area".
Renew Land Developments appealed to the Planning Inspectorate in Bristol which ruled the plans should be discussed in an open meeting at the council headquarters before a final decision was made.
Roger Adams, of nearby Langford Street, said: "We hoped the facade of the factory could've been kept with the apartments built behind that.
"It's another piece of Leek's heritage consigned to the scrapheap."