Muslim cemetery in Catherine-de-Barnes 'desperately needed'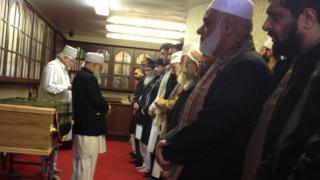 A new 4,000-plot cemetery in the West Midlands is "desperately needed" because of a lack of burial sites, Muslim leaders say.
Plans have been submitted to locate a Muslim burial ground at Catherine-de-Barnes, near Solihull.
Solihull council said it had received more than 160 objections and 180 submissions of support.
Funeral director Mohammad Khalil said Muslim communities in the West Midlands were in "dire need" of burial spaces.
Mr Khalil, who works in Alum Rock in Birmingham, said: "The population is growing very rapidly and the spaces are diminishing."
'Create more hate'
Under Islamic law, Muslims must be buried in their own section of land, next to others who have the same faith, he said.
The law also stipulates that graves should be single-depth and forbids cremation.
He said the Muslim section of Handsworth Cemetery, the primary burial site for Muslims in Birmingham and Solihull, was running out of space.
According to the 2011 census, the Muslim population of Birmingham was about 236,000 with about 5,000 Muslims living in Solihull Borough.
Mr Khalil said that number had grown in the past three years, with more Muslims moving to the city and its surrounding areas.
Letters of objection have been sent to the council, claiming the development encroaches on greenbelt land and will increase traffic and noise through the village, which has a population of about 600.
Dr Issam Ghannan, an imam in Solihull, said the cemetery was "desperately needed" because there was an ageing Muslim population in the area.
'Blot on the landscape'
He said he was concerned that objections had been hijacked by the far-right pressure group, Britain First.
"The council should be aware of it and shouldn't allow it to get into their decision-making," he added.
"We don't want more hate - these things create more hate between communities, and more problems."
Britain First said it had submitted a petition against the burial ground to the council because the development was far too big for the village.
James Dowson, from the group, said its objection was not "racially or politically motivated".
"We were contacted by local people who have a real feeling that this will be a blot on the landscape. It's the sheer scale of it for such a small village which is upsetting people," he said.
"If this was a council-run or Christian cemetery it would not be given planning permission because of its size, and councillors shouldn't be pressured into granting it by the Muslim community."
The council said it was currently reviewing objections against the plans.
A spokesperson said: "Any objection to the cemetery has to be on planning grounds."