Minister denies Oakwood prison disturbance 'cover-up'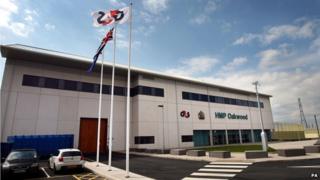 Prisons Minister Jeremy Wright has denied accusations of a cover-up over disturbances at England's largest prison.
Violence broke out in January at G4S-run HMP Oakwood, near Wolverhampton.
After the disorder a prison officer told the BBC it was a "full-scale riot" with prisoners taking over an entire wing of the jail.
But Mr Wright told the House of Commons that description was "inaccurate".
G4S said about 15 to 20 prisoners were involved and that the disturbance was over in five hours. The Ministry of Justice later said it took nine hours to resolve.
'No cover-up'
During justice questions in the Commons, Labour MP for Newport West, Paul Flynn, said the government should "tell the simple truth" about what happened.
Mr Wright responded: "There's been no cover-up here."
The minister said he visited the prison 10 days ago and spoke to an officer involved in the incident, as well as viewing CCTV footage.
"I'm very clear about how serious that incident was. But to describe it as a full-scale prison riot is, in my view, inaccurate.
"The wing is now back in use and the issue was professionally resolved," Mr Wright said.
G4S has been running the jail, which can hold about 1,600 inmates, since it became privately run in April 2012.