Birmingham A38 Tyburn Road shut after subsidence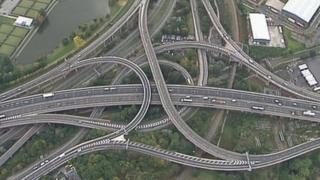 Part of the main A38 road in Birmingham has been closed for emergency repairs causing long delays for drivers.
The A38 Tyburn Road eastbound at the A4040 Bromford Lane, has been closed causing long queues, travel service Inrix reported.
BBC Travel confirmed the road, close to Spaghetti Junction, had subsided. Traffic is being diverted away from the area.
The road could be closed over the weekend, Inrix said.
Drivers can use a diversion via Bromford Lane and Heartlands Parkway.