Flybe plans major new base at Birmingham Airport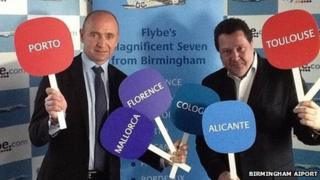 Flybe is to expand at Birmingham Airport, creating 50 jobs and offering seven new passenger routes.
It will now fly to Alicante, Bordeaux, Cologne, Florence, Palma, Porto and Toulouse.
In November, the Exeter-based airline revealed plans to close six bases and axe 500 jobs in a bid to save £85m.
Flybe will now operate 32 summer routes to and from Birmingham up to a maximum of 375 return flights each week, totalling 1.7m seats.
Outlining plans for closure of bases at Aberdeen, Guernsey, Inverness, Isle of Man, Jersey and Newcastle, Flybe chief executive Saad Hammad, said last year that redundancies were "necessary to secure a long-term future for Flybe".
A statement from Balpa, the British Airline Pilots Association, said it welcomed the news of expansion in Birmingham "especially given recent downsizing announcements elsewhere".
"Our efforts continue to reduce the impact of redundancies and job cuts on individuals as the airline restructures," it added.
Three of the aircraft on the new Birmingham schedule will be transferred from other regional hubs, the company confirmed.
Paul Simmons, from Flybe, said the decision to base extra aircraft at the airport was "a vote of confidence in the local economy".
William Pearson, from Birmingham Airport, said: "Not only will this growth make Birmingham Airport Flybe's biggest ever base, it will also become our largest carrier, flying up to 400,000 extra passengers a year and serving nearly two million travellers in total."