Birmingham City Council Capita deal details to be published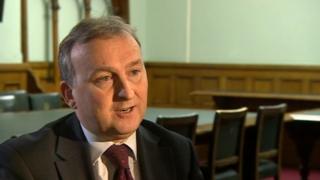 Details of a multi-million pound outsourcing deal are to be published by Birmingham City Council after pressure from campaigners.
The authority pays Capita about £126m a year to run its IT, call centre and billing services.
A petition was started in October urging the council to reveal details of the Service Birmingham contract to show if it was "getting value for money."
The council said the contract would be published by the end of March.
'Market tested'
But Ian Ward, deputy leader of the city council, said any commercially sensitive information would be redacted.
The deal with Capita also includes the set-up and running of the website for the city's new library.
A BBC freedom of information request found the council paid Capita £1.2m to build the website and then a further £190,000 a year to run it.
In comparison, Worcester County Council said it had spent £10,000 on its website for its new library and centre, the Hive.
Liverpool Council said the costs for its library website were just four hours of staff time to upload new pictures and alter text. There were no on-going support charges, it said.
Mr Ward said the contract, brought in by the previous Conservative-Liberal Democrat coalition, was "market tested" when the contract was first tendered for.
"Having said that, the first thing that we did with the Service Birmingham contract was to have it independently validated by an outside organisation called Best Practice Group.
"Their report confirmed it was value for money for the city council."
'Half the cost'
Economics professor David Bailey, from Aston University, started the petition, which has been signed by 379 people.
He has called the contract a "poor deal for taxpayers" at a time of austerity cuts.
He said: "Over a tenth of the council's controllable budget is going on that contract, its the equivalent of £1m every three days. We're seeing public services salami-sliced before our eyes and that hasn't yet been touched.
"I think the services could be delivered at half the cost. The only way of proving the council is getting value for money is publishing the contract in the public domain."
The council said it had asked Capita for a £20m cut in the contract and its budget plan had made allowances for that.