Inspector to rule on Birmingham bus lane fines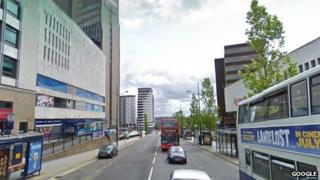 An independent traffic adjudicator is set to rule on claims by some motorists that they have been unfairly fined for using bus lanes in Birmingham.
The city council has issued some 80,000 fines since 10 cameras were introduced in September.
The Independent Traffic Penalty Tribunal will now decide on the legality of the Birmingham scheme.
Some drivers told the Birmingham Mail the signs were not clear early enough to avoid the bus lanes.
An independent adjudicator is expected to visit the sites of the cameras next month and hear appeals from about 20 drivers.
If upheld, it could lead to further claims and Birmingham City Council could be forced to pay back fines.
The local authority said it believed the scheme was fair and that signs met guidelines.
A spokesperson said: "The bus lane signs are compliant and drivers were given plenty of notice that it would be enforcing this, including a period of grace."
In a separate case earlier this month, Essex County Council refunded or cancelled £1m in fines for driving in bus lanes in Colchester after agreeing its signage was inadequate.
In Birmingham, people driving in bus lanes have been charged £60 for each offence or £30 if settled within a specified time.
In some cases drivers have received multiple fines.
Ben Cheney, who is appealing against his fines, said: "When you stand on the corner of Steelhouse Lane and Priory Queensway and you see these people driving up from the children's hospital, which is where the vast majority come from, innocently going into a left turn, which they're not aware is illegal, they are being fined repeatedly.
"And these are young families who can probably ill afford this. That's my concern, not my £60 or £90."