Dunlop tyre making could leave Birmingham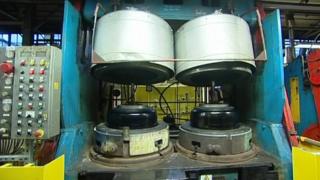 Dunlop tyre production could be moved away from Birmingham, putting more than 240 jobs at risk.
The 125-year-old manufacturer said its lease on the Erdington factory would expire on 1 September and no other appropriate site was available locally.
Dunlop Motorsport Europe said it was looking instead at moving production from the site to other plants in its European Manufacturing Network.
The company said it understood it was a "difficult time" for employees.
Dunlop Brand Europe managing director Sanjay Khanna said its "strong preference" was to remain on its existing site but this "has not proved possible".
He said: "For several months we have also worked closely with local agencies and authorities to identify local Birmingham site alternatives.
"Unfortunately no other appropriate site was available locally which would have provided continuity of supply to our key customers."
The firm is switching production to France and Germany.
The 11-acre site it leases has been sold to Jaguar Land Rover which wants to expand its neighbouring factory.
The company said it had started informing affected employees at the Erdington site.
"It is important our attention is now focused on supporting the employees who will be affected," the managing director added.
"We will work with our unions and employees throughout the consultation process to provide support."
The firm said the proposal still remained subject to a consultation with union representatives.
'No loyalty'
However, Andy Taylor from the Unite union said he believed a decision over the plant had already been made and the union had not been properly consulted beforehand.
He added: "They've done it after the decision appears to be made and we'll obviously be seeking legal advice on that."
Dominic Hinks, from the GMB union, said he felt "really let down" by the news and that the company had been "disingenuous about how seriously it has considered the option of relocating in Birmingham".
In September the Birmingham Post reported Dunlop Aircraft Tyres was given a £1.5m government grant to develop tougher and lighter aircraft tyres.
Labour MP for Erdington MP Jack Dromey said Dunlop had "no loyalty to the country that it bases its production in".
"When you think of what our country has done for Dunlop over the years and what our country - and I have to say this, our government - was prepared to do for Dunlop to keep them in this country, it's wrong that they should have behaved in this way."