Accused 'stabbed policeman in Ward End mosque'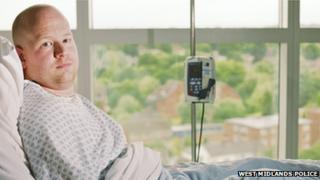 A man attacked fellow worshippers at a mosque before stabbing a police officer several times, a court has heard.
Mohamoud Elmi, 32, is accused of stabbing two men at the building in Washwood Heath Road, Ward End, Birmingham.
The city's crown court heard Mr Elmi then repeatedly stabbed PC Adam Koch after the officer tried to subdue him.
Mr Elmi denies two counts of attempted murder and three of wounding with intent.
Jurors have been told they must decide whether Mr Elmi is guilty of the charges, not guilty by reason of insanity, or is not guilty.
Prosecutor Anthony Warner told the court Mr Elmi was mentally unwell at the time of the stabbings on 15 June last year.
He alleged Mr Elmi, of Ward End Hall Grove, Washwood Heath, had attacked worshippers shortly after threatening two teenagers.
The court heard Tahir Mumtaz, who was sitting behind Mr Elmi, was subjected to a "determined, protracted and violent" attack.
"Mr Elmi raised the knife up over Mr Mumtaz in his praying position and repeatedly stabbed him to his body with the knife," Mr Warner said.
Taser warning
Another man, Zakaria Bhayat, was injured when he tried to restrain Mr Elmi, who then walked "calmly" into a washroom before returning to pray, Mr Warner said.
According to witnesses, Mr Elmi appeared to carry on praying before the arrival of police constables Adam Koch and Jean Stevens.
PC Koch shouted to Mr Elmi, the court heard, to warn him that he had a Taser and asked him to show him his hands.
But the prosecution alleged the defendant made his way towards the officer, holding a knife above his shoulder, and stabbed him several times despite the Taser being discharged.
Mr Warner told jurors PC Koch's stab vest was penetrated in two places and the incident could have "ended in tragedy" had a doctor, who gave first aid at the scene, not been present.
"He had a determined and aggressive look on his face - so his appearance had changed again from the calm that had briefly descended," the court heard.
The trial continues.