Centro Ring and Ride service petition signed by 56,000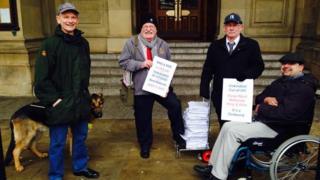 More than 56,000 people have signed a petition to save a minibus service which helps people with mobility problems in the West Midlands.
Centro, which funds the Ring and Ride service has said it has to save £14m, almost 10% of its annual budget.
It said the savings were necessary because the seven councils which fund Centro are having to make budget cuts.
West Midlands Pensioners' Convention said elderly and disabled people could become "prisoners in their own homes."
'Out and about'
Wheelchair user Brian Cunningham-Gould, said: "It enables me to get out and about because with traditional public transport I can't access the stop or the station to start with.
"I'm able to safely do activities that people take for granted, like going shopping or going to the library."
Centro is funded by seven local councils - Birmingham, Wolverhampton, Sandwell, Dudley, Walsall, Coventry and Solihull.
The leaders of those councils met on Wednesday to discuss the future of the firm's services.
Members of the Pensioners Convention handed the petition to councillors before the meeting.
The multi-council panel will make recommendations on services to the West Midlands Integrated Transport Authority (ITA), it said.
The ITA will make a final decision on what will be cut on 14 February.