Birmingham Wireless Festival: Good for the city?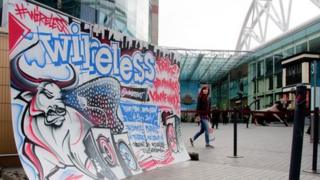 The Wireless Festival is due to hit Birmingham later in 2014, bringing a host of A-list talent to the city.
It will see the likes of Kanye West, Bruno Mars and Drake performing in Perry Park, home of the Alexandra Stadium, between 4 and 6 July.
Details of the festival were announced on the same day a report hailing signs of Birmingham's economic recovery was published.
But will a high-profile event like the Wireless festival benefit the city?
Professor David Bailey, of Aston University Business School, said Birmingham still needed to do more to compete with London but the decision to stage a major festival there was promising for the city's future.
"It's a reflection that organisers have got confidence in Birmingham as a city to host the event; it has the facilities and will attract the crowds," he said.
"They see it as commercially viable to stage the event here.
"Birmingham is now in the position where it can bid for and get these sorts of events."
The news received a mixed reaction from residents and businesses around Perry Park, but most locals were positive.
Nigel O'Grady, 42, who owns a café near the venue entrance, said locals were used to large-scale events being staged at the Alexandra Stadium.
"It makes very little difference to us," he said. "They have café facilities on site so people generally walk straight past us.
"We don't benefit that much although we see a bit of extra business.
"I think it's good for the area generally though."
Local Myrtle Newman, 79, said it was refreshing for events to be staged outside the city centre.
She said: "Normally we have to go into Birmingham for anything that's going on."
Liz Woodward, 68, added: "I think it's good for the city, although I've never heard of any of the artists - I'm open to anything though."
Meanwhile, music fans who had turned up at the Bullring shopping centre to watch graffiti artists create a festival-inspired mural said they thought the festival would be good for Birmingham.
Student nurse Elisha Reid, 18, said she planned to buy tickets as soon as they go on sale on Friday.
"I hope it's the start of a tradition of big music festivals in Birmingham; they stopped some of the big things like Christmas light switch-ons so I hope there are more like this."
The festival will run in tandem with a sister event in Finsbury Park, London, with headline acts swapping between sites over the weekend.
Promoter Steve Homer said organisers at Live Nation were "thrilled" to be bringing the festival to Birmingham.
He said: "Wireless Festival celebrates its 10th year this year and we couldn't be more thrilled to mark this momentous anniversary by taking it to a second site, Perry Park in Birmingham."