West Bromwich church and houses hit by lightning in storm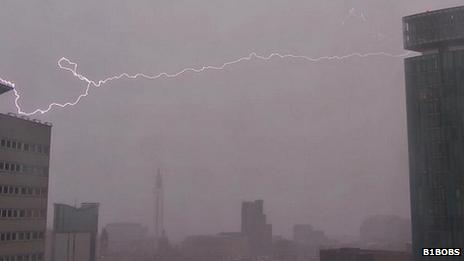 A heavy storm has battered the Midlands region, with houses and a church struck by lightning and trees uprooted.
Lightning cracked a stained glass window ledge at St Michael and Holy Angels church in West Bromwich at 15:00 GMT, West Midlands Fire Service said.
A spokesman said the charge went through a tree leaning against the window and set floorboards alight.
Bolts also struck houses in Wollescote, Stirchley and Northfield.
Hereford and Worcester Fire and Rescue said it had received about 10 reports of trees falling over because of the weather.
There were also reports of roof slates being dislodged and car windows being smashed in Galley Common, near Nuneaton in Warwickshire.
One Galley Common resident, who asked not to be named, said: "It was absolute devastation. bricks damaged, cars ruined.
"There were between six and 10 houses wrecked. Garages have been torn off. It's just a nightmare."
Warwickshire Police said it had received reports of "extensive damage" at Galley Common but no injuries. It said it was working with partners to ensure residents received support.
Four fire crews were called to Oakfield Road in Wollescote at about 15:00 GMT after lightning hit a roof, causing a fire at two houses. A woman in one of the homes received treatment after inhaling smoke.
A bolt hit a house in Newlands Road in Stirchley around the same time, setting curtains on fire in a ground floor lounge.
Another lightning bolt hit a television aerial above a house in Fancott Road in Northfield, causing damage to wiring.
The fire service also said a 40ft conifer tree had been uprooted in Stoneleigh Road, Birmingham.
Hereford and Worcester Fire and Rescue said they were called just after 15:00 to reports of trees that had blown on to overhead power lines in Suckley near Worcester.
A spokesman said an 11,000 volt electricity pole was also blown over close to a garden in Offenham.
Related Internet Links
The BBC is not responsible for the content of external sites.