Birmingham Airport 'overlooked' in expansion plans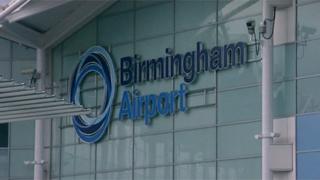 Birmingham Airport is being "overlooked" in government plans to expand UK airports, the city's chamber of commerce has said.
In a letter to MPs it said the airport played a "crucial role" in supporting the local and national economy.
The chamber criticised an interim Airports Commission report, published in December.
That report proposed expanding capacity at Heathrow and Gatwick, but not in Birmingham.
A spokesperson for the Airports Commission said its proposals were "those with the greatest potential to meet the UK's capacity needs."
Writing to the House of Commons Transport Select Committee, Greater Birmingham Chambers of Commerce chief executive Jerry Blackett said demand for products from West Midlands manufacturers was growing in Asia and the Middle East.
"We need to ensure that this growth story is not stifled by a lack of access to emerging markets," he said.
'Important role'
Mr Blackett said it was important for Midlands businesses to be able to fly directly to new markets, and not have to travel via London.
"We just can't sit idly by and let this report embed the status quo," he said.
"What kind of a service is it that forces all of us to go to London before we can fly to these growth countries?"
The Airports Commission spokesperson said Birmingham had "an important role to play attracting surplus demand before any new runway is built.
"Birmingham may well be an option for a second additional runway in the 2040s, which the commission believes is likely to be needed."