Cadbury jobs cut despite £75m Bournville investment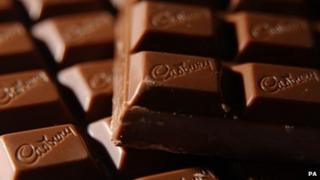 Birmingham-based chocolate maker Cadbury has warned jobs will be cut despite a £75m investment in its Bournville headquarters.
The money - earmarked for modernising machinery - will be released over three years and is expected to secure the future of the site.
But a spokesman for the firm said he believed there would be a reduction its workforce as a result of the changes.
The Unite trade union said it hoped any job losses would be voluntary.
Cadbury said investment would bring four new production lines to the Bournville plant, which opened in 1879.
The business was taken over by American food giant Kraft in 2010.
The Bournville factory currently produces some of the firm's most popular chocolate bars, including Dairy Milk, Creme Eggs and Wispas.
Tony Bilsborough, a spokesman for Cadbury's parent company Mondelez, said he could not comment on "specific" figures but admitted job losses were likely.
Speaking to BBC WM, he said: "We are just trying to be open and frank and say 'we believe there will be a reduction in numbers' but that's down to discussions we are having with the workforce now."
Reece McCarthy, national officer for Unite, said the firm had so far been transparent about its plans but the union favoured voluntary redundancies.
"We would oppose compulsory redundancies," he said.
Mr Bilsborough had said earlier it was "difficult to say" whether the investment would lead to new products.
He said: "We will be looking to grow manufacturing volumes and to have the capabilities to introduce new products.
"This is all subject to ongoing consultations".
'Seminal moment'
Joe Clarke, regional industrial officer for Unite, said the investment was "desperately needed".
"Some of the plant and equipment is more than 30 years old and we haven't been able to compete with other manufacturers within the group," he added.
Mr Clarke said the investment would increase efficiency and "open the door" to bidding for new products.
He likened the investment to that of another local manufacturer Jaguar Land Rover, which has announced increased production levels.
"At least we've got an opportunity to secure the future of the site," Mr Clarke added.
The Bournville plant also includes the company's chocolate research and development site, which works on the creation of new chocolate bars.
The company said the investment would include replacing out-of-date production lines and opening new ones.
The factory currently employs about 960 workers.
Tim Pile, president of Birmingham Chamber of Commerce, earlier said the investment marked a "seminal moment" for Bournville.
"Like other parts of British manufacturing there is a productivity gap in Bournville that needs closing in order for Bournville to compete with the best in the world," he added.