Baby's organs 'were kept for 15 years', says mum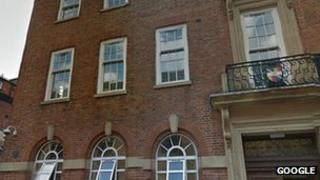 The mother of a baby who died from cot death in 1998 has said his organs were kept for 15 years without her consent.
The woman, who does not wish to be named, was told of the situation in December by Birmingham City Council and West Midlands Police.
Solicitors acting on her behalf said the organs were taken by a pathologist and stored at Birmingham Central Mortuary.
The council said organs from three other children were also found.
Their families concerned have been informed.
'Deeply concerning'
The woman, who is from the Birmingham area, said she had been visited at the start of last month by a police liaison officer, who could not confirm which of her son's organs had been taken and stored or why it had happened.
She said her boy was born in June 1998 but died less than three months later and was taken to Birmingham Children's Hospital.
She said: "An inquest was opened and his body was released so we could hold a funeral and my son was cremated.
"The inquest was then closed in April 1999 and, as far as I was concerned, my son was buried and he was at peace.
"It feels like I am back in 1998 because I am having to go through the process of reburying my son again now.
"Obviously you never forget, but you don't expect this."
The woman said she wanted to know whether any tests had been carried out on her son's organs over the past 15 years.
"This was my son, a real human being," she said. "I'm determined to get to the bottom of what went wrong and how many others are affected."
The woman's legal team said they were calling for an independent inquiry to discover the scale of the issue.
Medical lawyer Mandy Luckman said: "The information my client has been given is deeply concerning.
"We believe the details emerging about this Birmingham case warrant a further independent public inquiry to get to the bottom of why this information is only emerging now.
"Under no circumstances should the organs of a deceased baby or adult be kept without permission of their family.
"In this case, our client's son died one year before the Alder Hey scandal was made public but it is only now, 14 years on [from the funeral], that she has found out his organs have been kept, and she hasn't even been told why."
The coroner's office said it was not commenting on the matter.
A spokesperson for Birmingham City Council said the organs were found following an audit of the mortuary.
He said: "We are working closely with the families on what is a very sensitive issue. Our officers have visited the families and have listened to their wishes.
"Any decisions about the way this is dealt with will rightly come from the families. We'll be directed by what they choose to do."