HMP Birmingham guards 'attacked with TV glass'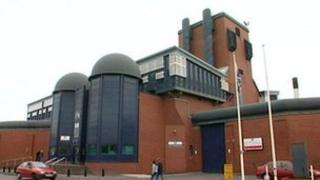 An HMP Birmingham inmate used a shard of glass to launch a "frenzied" attack on several guards after smashing the TV set in his cell, a court has heard.
Ahmed Sharif Jama Al-Sharif, 53, is alleged to have cut one prison officer's arm "down to the bone".
Birmingham Crown Court heard he got hold of the glass used in the attack by smashing the TV three days earlier.
Mr Al-Sharif denies three counts of assault and two charges of wounding with intent.
Prosecutor Jason Pegg told the court five glass fragments were left inside the defendant's cell after he punched a prison officer on 4 November 2012.
He said one of the pieces was later wrapped in green fabric and used to attack three other members of staff three days later.
'In a frenzy'
The court heard Mr Al-Sharif confronted Robert Belcham - who was the guard most seriously injured in the attack - after the warder unlocked his cell to give him food at about 11:30 GMT.
Mr Pegg said two or three inches of glass were poking out of the defendant's fist when he rushed at Mr Belcham "in a frenzy" and hit him in his left arm, causing a serious injury.
"That wound cut through some of the tendons, a muscle and a nerve in the officer's arm," he said.
The prisoner is then alleged to have caused injuries to three other officers who tried to restrain him, including lacerations and a broken finger.
Mr Al-Sharif claimed he acted in self-defence, the court heard.
The trial continues.