Five Live radio fame cancer patient Steve Evans dies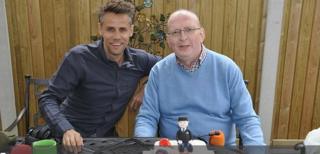 Cancer patient Steve Evans, who won a large following after speaking about his illness on Richard Bacon's BBC Radio 5 Live show, has died aged 52.
He was hailed as an "inspirational" figure for his humour and resilience in the face of incurable stomach cancer.
More than 26,000 people - whom he called his "extended family" - followed the former Wolverhampton council worker's blog and Twitter updates.
Presenter Bacon told the BBC he felt as if he had lost a "great friend".
Mr Evans' daughter Megan announced his death on Thursday morning, saying he had passed away peacefully in his sleep.
'Felt lucky'
Other celebrities paid tribute on Twitter to the amateur magician.
Comedian David Baddiel wrote: "Very sad to hear of the passing of the amazing, funny and magical, in all senses, @steveevans51."
Radio presenter Dave Vitty wrote: "Steve Evans was an absolute one off. An inspirational man who I was privileged enough to get to know and work with."
Mr Evans came to prominence after he was interviewed by Bacon, who praised him for his positive approach to his illness.
After a number of appearances on the DJ's afternoon show, he gave a "final" interview from his hospital bed at New Cross Hospital, broadcast on Tuesday.
Mr Evans spoke of entering the "final phase" of his illness and said he felt lucky to have been able to share his experiences with the public.
"Love is all around me and I'm so blessed that I have had so much of it around me," he said.
'Explained it brilliantly'
He also told how he had been touched by support from strangers after he made it a "target" to get through Christmas with his family.
He said he felt as though his followers had shared the occasion with him and wife Septina, and daughters Megan, 26 and Lauren, 21.
"I had 45 Christmas cards and 500 messages on Christmas Day, people sending me messages every two and a half minutes at one point."
After Mr Evans became too weak to use his phone himself, friend John Price tweeted on his behalf.
His final message was sent on Monday lunchtime.
Bacon said Mr Evans used to say he had "pulled him through the door" and helped to open listeners' eyes to the reality of terminal cancer.
Speaking to BBC WM's Pete Morgan, the 5 Live presenter said Mr Evans's "turn of phrase" and openness about his condition had made him popular with listeners.
"I don't think anyone's explained it as well as him or as brilliantly as him and I think that's why people connected with him."
Mr Evans's daughter Megan told BBC News the family had been struggling to keep up with messages of support.
She said her dad's following became so large she would sometimes get recognised in public.
"It was slightly odd getting recognised on a train down to London when someone said 'aren't you Steve Evans's daughter?'"
'Celebrate life'
Mark Blackstock, venue manager at Wolverhampton Civic Hall, told how Mr Evans had helped to run events there for over 20 years and said his experience as an amateur comic endeared him to visiting stars - a number of whom he befriended.
"Rather than a faceless hotel room they arrived to a friendly face and I do think people came back for him.
"Part of his legacy is the number of acts that come back to us."
Mr Evans's former Wolverhampton City Council boss Alistair Merrick said there was a sombre mood in Steve's hometown as news of his death broke on Thursday morning.
He added: "It's quite flat here today, we have lost a big personality as a city.
"There's one thing you couldn't accuse Steve of being and that's grey.
"Right until the end he stayed positive.
"It's important to remember that he would want us to celebrate his life."
Mr Evans was first diagnosed with cancer in 2012 when doctors told him he had 12 months to live.
He said "second line" cancer drugs had prolonged his life but in November he revealed his decision to stop receiving medication.