Catherine O'Flynn: Life after the Costa Book Awards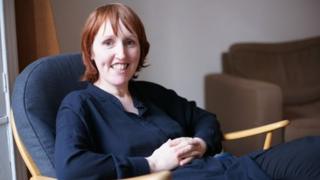 A book award has the power to change an author's life.
This statement is not just marketing hype, it is fact, as lived by writer Catherine O'Flynn.
O'Flynn won the Costa First Novel Award six years ago with her first novel, What Was Lost.
Cuddling her four-month-old baby in her whitewashed Birmingham terrace she tells me, of all the accolades her book received, the Costa is the one she credits with being a life-changer.
The book deals and international sales that immediately followed the 2008 win allowed O'Flynn and her husband to give up work and build a family.
"It wasn't my main aim to give up my day job.
"I'd organised my life so my job wasn't so loathsome, in fact I loved it, and leaving was a difficult decision."
'A nice income'
She worked in the box office for a local arts centre and feared becoming a full-time writer could leave her "adrift from reality".
Before this her range of jobs included working in a record shop, delivering post, teaching English abroad and - many years ago - being my boss for a brief time in web design.
What was Lost was long-listed for the Man Booker Prize for Fiction and the Orange Prize for Fiction.
It was shortlisted for the Guardian First Book Award, won the Jelf Group First Novel Award and Flynn was named Newcomer of the Year at the Galaxy British Book Awards in 2008.
Demand for media interviews, writing and a two-book deal with publishing giant Penguin made Flynn's move to full-time writing inevitable.
Her husband, Pete Fletcher, said: "It did make a difference, a very big difference.
"We had The Sun and everyone phoning and the foreign deals came immediately after."
O'Flynn is doubtful such a wave of offers can be expected by this year's Book of the Year nominees.
"I realise I was very lucky. Times have changed a lot since and publishing is in a state of flux.
"It allowed me to write and encouraged me to think I should carry on writing.
"We also had the financial security for Pete to give up work and look after Edie [born in 2009]."
He describes the Penguin book deal advance as "enough for a nice income for a few years as long as you live in Birmingham and don't go mad".
The Costa Book Awards netted the writer £5,000 for winning in the First Novel category. The writer who goes on to win the overall Costa Book of the Year receives an additional £25,000.
The couple still discuss the events that started six years ago with some degree of disbelief.
Writing full-time was "never a life-long dream" and "in some ways is terrifying," says Ms O'Flynn, but with the "time, space and confidence" she gained she has now published three novels alongside a number of other writing projects.
"Costa allowed me to be a full-time writer but I'm primarily motivated by just being content. That could be achieved in a completely different job," she added.
She has not yet committed to repeating what she describes as the "long and lonely" journey of writing another novel but O'Flynn knows the Costa Book Awards was instrumental in her having the freedom to decide.
The 2013 Costa Book of the Year winner will be announced on 28 January.