Ex-detective Daniel Watts jailed for passing data to drug dealer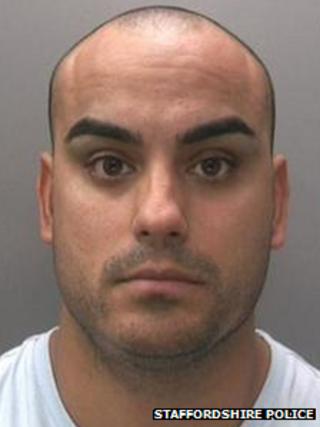 A former police detective has been jailed for leaking confidential information to a convicted drug dealer.
Daniel Watts, 31, was sacked by West Midlands Police in August after he was found to be passing details from force computer systems to Stephen Hunt, 33.
Watts was jailed for 28 months at Stafford Crown Court in October after admitting conspiracy to commit misconduct in a public office.
Reporting restrictions on his case were only lifted by a judge on Monday.
The details were only approved for publication after Hunt, from Edge Hill Road in West Heath, was sentenced to 10 years for drug dealing at Wolverhampton Crown Court.
He was also given 28 months after being found guilty of conspiracy to commit misconduct in a public office.
West Midlands Police said Watts, from Chester Road in Erdington, first made checks for Hunt in April 2005 whilst he was on trial for drug supply.
That practice continued up until October 2012, it said.
'Career over'
Police said Watts' misconduct was exposed on 3 March last year when police raided the house of a suspected criminal in Northfield.
Officers found a mobile phone containing a text message concerning confidential information about police search warrants.
It was traced to a mobile used by Watts and showed it was sent while he was on duty and using a police computer work station.
Supt Tim Godwin said: "No police officer is above the law. Daniel Watts was a rogue officer who believed he could discretely pass information to a friend in the criminal fraternity.
"His police career is over and he faces the prospect of having his police pension seized. He's rightly paid a very high price for these breaches of trust and position."
The police said an application to confiscate all or part of Watts' force pension was underway.
The final decision on how much to take will be made by the Home Secretary, police said.