Thousands sign Wolverhampton Central Baths closure petition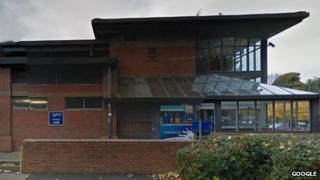 A campaign group has collected more than 6,000 signatures on a petition to save Wolverhampton's Central Baths.
The city council, which needs to save £123m by 2016, said the baths could be forced to close because it could not afford £316,000 a year running costs.
It said it was in talks with the Amateur Swimming Association (ASA) and Sport England to try and save the eight-lane, 25m pool.
Campaigners will present the petition to councillors later.
Carol Bailey, who swims at the pool four times a week, is helping run the campaign.
She said the fact the council was working with the ASA and Sport England was "very promising".
'Forced closure'
According to figures from Wolverhampton City Council, the pool had 126,700 visitors in 2012, compared with about 400,000 at its other two leisure centres.
Elias Mattu, cabinet member for leisure, said the council had been in regular dialogue with campaigners.
He said: "We are doing our level best to protect this service. It's a very popular and much-loved service and we are trying to find a way to stop it from closing.
"The cabinet has made it very clear that the possibility of closing the baths is being forced on the council by central government cuts and is not something anyone here in Wolverhampton wants to happen."
The council said if it was confirmed that the petition had more than 2,500 names on it, it would automatically trigger a debate at full council on 5 February.