Good Hope Hospital must improve standards, say inspectors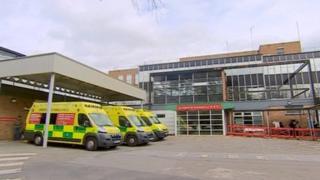 Health bosses have been told to improve standards at a hospital in Birmingham.
The Care Quality Commission said it had "a number of concerns" about Good Hope Hospital in Sutton Coldfield.
Concerns included a shortage of midwives, shortage of staff in wards for older people and long waiting times in the emergency department.
Heart of England NHS Hospitals Trust chief executive Dr Mark Newbold said the trust was introducing initiatives to bring about improvement.
It has until 21 February to improve.
'Compassionate approach'
During their visit, inspectors observed all accident and emergency cubicles at the hospital were occupied and some patients had to wait on trolleys in the corridor.
However, the report concluded there were many areas of good practice and said staff were "caring and kind".
A further CQC assessment will be held to follow up the findings of the inspection and to report on the trust's progress.
Dr Newbold said he accepted the findings of the report.
He said: "We are working hard to continually improve the quality of the services we provide, and I greatly welcome the chief inspector's acknowledgement of the caring and compassionate approach of our staff, and indeed the open and transparent way in which this trust operates."
As well as Good Hope Hospital, the trust runs Birmingham Heartlands Hospital, Solihull Hospital and Community Services, and Birmingham Chest Clinic.