Karra brothers' bank note scam 'was most sophisticated'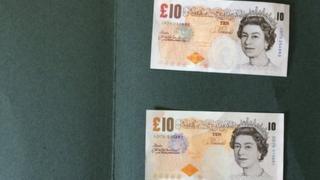 The forgeries created by two brothers who printed more than £1.3m worth of counterfeit notes were some of the "most sophisticated" an expert said he had "ever seen".
Amrit and Prem Karra have each been jailed for seven years for using their printing business in Hockley, Birmingham, to produce the forgeries.
Richard Warner, the regional head of investigations at the National Crime Agency, said the fakes "were of a high quality".
"It is not the biggest counterfeiting operation we have stopped but, at the time it was uncovered, this particular operation was the biggest threat we were dealing with," he said.
The Bank of England has said the scam did not pose the biggest risk to the economy from counterfeit notes.
But Mr Warner said the high quality of the counterfeits - combined with the common nature of the £10 note - left both individuals and businesses at risk.
"In this case the notes could have undermined the UK economy," he said.
The agency believes a further £500,000 in fake notes may have been produced at Karra Design and Print and could still be in UK circulation.
'Breadcrumb trail'
Though the Karra brothers only produced one batch of forged notes, Mr Warner said they could have created more if they had not been caught.
"They could have gone on to produce more, or they could have put themselves out to hire and sold their skills and expertise to organised crime gangs," he said.
Investigators followed a "breadcrumb trail" after they were first alerted to the forged notes in February 2011.
On that occasion a person used 82 of the fake £10 notes to buy two mobile phones from a shop in Sutton-in-Ashfield, Nottinghamshire.
Most were detected by the Bank of England when they found their way into its processing systems.
Forensic investigations eventually showed the notes had been produced at the business premises in Hockley.
Along with the brothers, Rajiv Kumar and Yash Mahey were jailed for four years at Birmingham Crown Court for counterfeiting the money between September 2011 and February 2012.
A Bank of England spokesman said they were pleased with the outcome of the sentencing.
He said: "The bank works closely with the National Crime Agency in the fight against counterfeiting. We are grateful for their work in pursuing this case to a successful conclusion. Those individuals who engage in counterfeiting should know they will be found and punished for their crimes."