Memorial for Big Issue sellers Ian Watson-Gladwish and Wayne Busst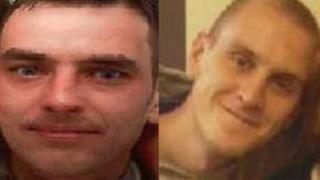 A memorial service has taken place to remember two Big Issue sellers killed in Birmingham a year ago.
Ian Watson-Gladwish, 31, and Wayne Busst, 32, were stabbed in Union Street on 11 January 2013.
John Ward, 24, admitted manslaughter on the grounds of diminished responsibility and was detained for life.
A memorial service was held on Saturday, outside Sainsbury's on Union Street, near where the two men died.
Becky Mitchell, regional manager for the Big Issue said the memorial showed the two men were not forgotten.
She said Big Issue magazine vendors and staff in the office continued to talk about them.
Ms Mitchell said their deaths had also touched members of the public in Birmingham, and that she had been "overwhelmed" by the support many people had shown in the weeks following the stabbings.
Ward, a paranoid schizophrenic, was told he would serve a minimum tariff of 12 years.
Ms Mitchell said the Big Issue was continuing to work with the police, street wardens and shop owners, among others to in an effort to protect vendors.