Dudley Russells Hall Hospital 'fragile' after high demand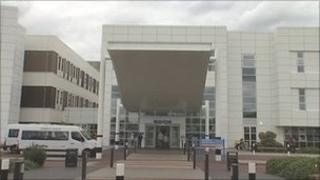 Dudley's Russells Hall Hospital is "fragile" after diverting ambulances, moving patients to care homes and cancelling clinics as it declared a major internal incident.
A statement said recent demand for emergency services was unprecedented.
On Thursday patients were asked to stay away from its A&E department so staff could focus on discharging patients.
A spokesperson said capacity management "remains fragile" but the situation was "back to the usual demand".
Over capacity
Chief Executive Paula Clark said: "We have been experiencing high levels of emergency admissions since the middle of December and the capacity issues have come to a head."
The hospital asked for help from the local authority to discharge more patients than usual to nursing homes and care homes.
Ms Clark added: "Six patients needed resuscitation in the space of a few hours, we were also blocked with beds, with not enough discharges happening in the system."
She said the resuscitation unit accommodates up to four people and usually operates at half that capacity.
Operations were postponed and emergency patients were told they would "have to wait many hours" to be admitted to hospital.
The Dudley Group NHS Foundation Trust, which runs the hospital, said it was the first time it had declared a major internal incident in almost four years.