Cancer patients' free parking at Heartlands Hospital stopped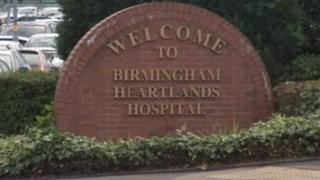 A charity has branded a hospital's decision to stop free parking for cancer patients "disappointing".
Patients at Heartlands Hospital in Birmingham said they previously received parking passes but these were scrapped at the start of January.
Cancer charity Macmillan said: "We are so disappointed to find the hospital is now charging patients."
But a hospital spokesperson said it still offered discounts on tickets to those with regular appointments.
'A full day's parking'
One patient, Jacqui Oakley, who is undergoing chemotherapy for breast cancer, said: "It seems fairly obvious, but at the absolute worst time of your life, one which affects you on so many levels, the last thing you need is this."
She said she had been issued with a car park pass at her first appointment, in 2013, which was valid until the end of the year.
She was told she would then be able to renew it but, when she presented it on arrival on Wednesday, she was told free parking had been withdrawn.
"There are many people having chemotherapy who are there from 08:00 and don't get out until 18:00 - that's a full day's parking," she said.
She added the NHS had "otherwise been absolutely fantastic".
Parking at the hospital costs £5.75 for up to 24 hours and £35 for 28 days.
Jo Judges, senior Macmillan development manager in the West Midlands said: "Cancer patients in general suffer becoming worse off because of their diagnosis.
"We feel the hospital should be going the other way and trying to offer free parking to more patients, not withdrawing it."
The hospital said it offered free parking to those in receipt of income-related benefits.
A spokesperson for the hospital said it made no profit from the charges. "All the money raised goes straight back into maintaining our car parks, paying for security staff and CCTV," he said.
"We are committed to providing our patients, visitors and staff with safe, cost-effective parking facilities.
"We recognise parking charges can be a very significant financial burden for some and so we offer discounts to anyone visiting the hospital for more than one day."