Volunteers fight "devastating" city parks cut proposal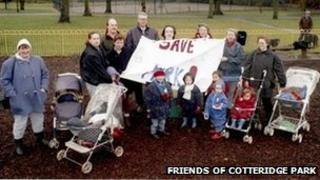 Volunteer park workers are leading a campaign against proposed £2.6m cuts which would see jobs and play areas axed in parks across Birmingham.
The jobs of 16 park keepers jobs and 60 play areas could be lost if the proposals are approved.
Birmingham City Council is currently trying to save £87m from its budget.
The proposals are under public consultation until Friday. The council has not yet decided which of Birmingham's 200 parks would be hit.
Volunteers from Birmingham's 150 Friends of Parks (FoP) group, who carry out gardening work and host activities such as Tai Chi and school trips at parks throughout the city, are leading the campaign.
'Free day out'
Emma Woolf, vice chair of the FoP, said: "There are so few places in the city where families can go for a free day out.
"With cuts to park services, there would be even less. It would be devastating".
Ms Wolf said volunteers feared they could not continue their roles without the supervision of paid staff such as park keepers.
"There would be nobody to supervise activities and family events. Volunteers cannot do everything".
A spokesman for Birmingham Council said: "At the moment these are proposals, not definite decisions.
"The concerns and views of the public are very important in this decision and will be taken into account."