Elvis tribute acts at European contest in Birmingham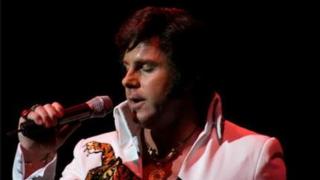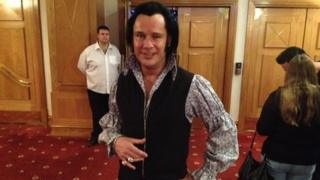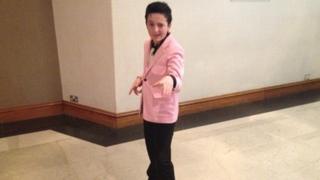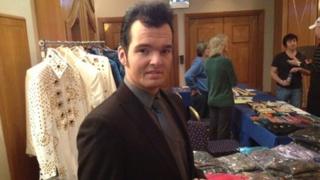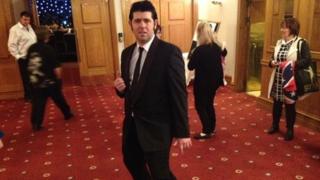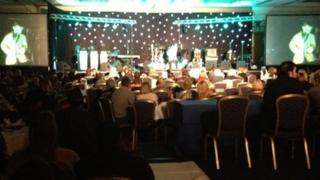 Thousands of Elvis fans from across Europe descended on Birmingham for the annual European Elvis Championships.
Now in its fourth year, the event is organised around Elvis's birthday weekend and saw some of the singer's top tribute acts battle it out.
Winner Johnny Lee Memphis, 29, beat 98 rivals to be crowned European Elvis Champion at the city's Hilton Hotel.
Memphis will now join US Elvis impersonators at an international event to be held in Birmingham in April.
Memphis said he was "delighted" with the victory.
Event organiser Michael King said contestants were judged on "singing and Elvis-like movements". He said the event "grows in popularity each year".
Among those to attend was Gido Rainhard - stage name Elvoice - who said he had been hooked on "the King" since childhood.
The 47-year-old has a 1950s-themed room in his house and drives a Ford V6 hardtop coupe as a tribute to the star.
"Elvis has been my best friend since I was young," said Mr Rainhard, of Bremerhaven, Germany.
"I saw him at the movies when I was four and straight away I was hooked."
'Love everything'
Father-of-three Dave Smith, 27, a champion in one of the categories at the competition last year, has a 6ft statue of Elvis in his back garden.
"My house is full of Elvis stuff," said Mr Smith, from Porthcawl in Wales.
"I have posters, pictures, statues throughout. I love everything about the man - his music, his mannerisms, there is no specific thing."
Security guard Marc George, who is in his 40s, said he had shown his dedication to Elvis with a tattoo of the singer on his shoulder.
"He was the original X Factor," he said.
"He is still alive through his music."
'Same designers'
Elias Boswell, 12, from Manchester, was one of the youngest competitors.
He spends an hour practising Elvis songs every day after school and said he would rather be listening to his idol than playing computer games or football.
"I love his style and dance moves," he said.
The event gained adverse publicity in 2011 when police were called to the annual event at the Hilton Birmingham Metropole Hotel when one impersonator, Michael Cawthray, launched an attack on a man he accused of trying to seduce his wife.
But Sioned Cawthray, who helped organise this year's event, said there had been no such trouble this time.
She said the event had attracted 3,000 people, including 70 impersonators, over the weekend and that fans had travelled from as far away as Germany, Switzerland and the US.
"It's getting bigger and bigger every year," she said.
"People here love Elvis. They wear his clothes, they look like him, most of the people here have been to Graceland at least once.
"A lot of the older people travelled to the States to see him perform. It's a multimillion-pound business. They have jewellery, they spend thousands on suits made by the same designers as the ones Elvis wore."