Anger over absconded Birmingham killer Lee Wheeler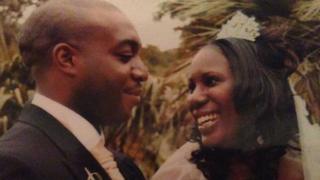 The widow of a man who was stabbed to death has said she is disgusted to hear his killer has absconded from an open jail.
Lee Wheeler, convicted of Leon Kerr's manslaughter in Birmingham in 2010, failed to return from day release to Sudbury Prison.
Mr Kerr's widow, Paula Hendrickson-Kerr, believes Wheeler should not have been in an open prison at all.
But a Prison Service spokesman said open prison inmates are risk assessed.
"I think it's disgusting," Ms Hendrickson-Kerr told BBC WM.
"I understand they have to let criminals back into society but for someone who has taken someone's life, open prison, I don't think is the way.
"They need to be locked up for that full-time."
'Based on trust'
She added: "I think if you kill someone it's a life for a life. In America you do that time. You don't get out in three or four years' time.
"You do that full sentence."
Wheeler, 33, was let out on 23 December but did not return to the jail in Derbyshire.
He has served three years of a nine-and-a-half-year sentence, after being convicted of stabbing Mr Kerr in Small Heath, in 2010.
Police believe Wheeler could be staying in the Birmingham area.
Juliet Lyon, from the Prison Reform Trust, said the open prison system was based on trust.
She said inmates who abscond have a lot to lose because they are subject to their full sentence when they return to jail.
A Prison Service statement said: "All those located in open prisons have been rigorously risk assessed to be deemed suitable for these conditions.
"Open prisons provide the most effective means of ensuring that long-sentenced prisoners are tested in the community before they are released."