New Year Honours: Choir director honoured by Queen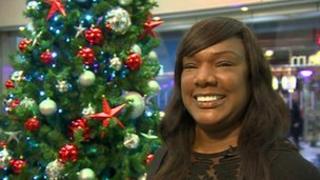 A musical director and voluntary worker from Birmingham are among those listed in the Queen's New Year Honours list.
Alison O'Connell, who has run free sports programmes since 2006, has been appointed MBE for services to the voluntary sector.
Carol Pemberton, musical director of the Black Voices choir, has also become an MBE for services to music.
Across the West Midlands, 33 people have been honoured.
Ms O'Connell said she was "humbled" by the award.
'Humbled and amazed'
She said: "I was delivering a community course when my husband called with the news.
"I had to stand there for five minutes taking it all in before I could continue.
"It is quite amazing, and credit goes to the whole community, not just me".
Ms Pemberton, whose choir promote the oral tradition of African and Caribbean folk songs, said she was "shocked and delighted" by her award.
She said: "I am doing something that I love to do and to be recognised for it is totally humbling".
Others to be honoured include Dr Sadhu Singh Gakhal, of the British Sikh Consultative Forum, who was appointed MBE for services to the Sikh community.
Birmingham Labour Party chairman Mahmood Ahmed has been appointed OBE for voluntary political services and Dr Hamid Ghafoor Mughal, of Rolls Royce plc, who has become an OBE for services to technology, innovation and manufacturing.
Neil Evans, Chief Superintendent of West Midlands Police, has received the Queen's Police Medal along with Deputy Chief Constable David Thompson.