Tree falls on house in Kings Road in Kingstanding, Birmingham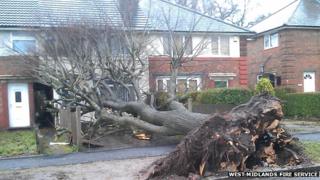 A tree has fallen on to a house in Birmingham, damaging the roof and a ground floor window.
The tree came down in Kings Road, Kingstanding, at about 10:00 GMT.
Three people were in the two-storey terraced property at the time but a West Midlands Fire Service spokesman said no-one was seriously injured.
He said the trio received precautionary checks from paramedics. A structural engineer was called to assess the stability of building.
The spokesman said he assumed the weather had caused the tree to fall but was not certain.
One onlooker said a paperboy who had been due to deliver a newspaper at the address arrived just a few minutes after the tree collapsed.