End of the road? Are major routes through cities outdated?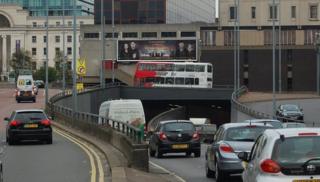 A report looking at Birmingham's transport network for the next 20 years has concluded the future of the Queensway tunnels should be examined. It is not the only place in the UK that relies on a route for cars through the city. So are such roads outdated?
When it emerged Birmingham's Queensway tunnels would be closed for six weeks over the summer, it is no surprise there were predictions of "chaos".
The main through route for the A38, the tunnels are used by thousands of drivers each day and have been an integral part of the city's transport network since they were built in the 1970s.
There was some surprise, therefore, when the anticipated gridlock did not materialise.
The reality was so different that a report into Birmingham's transport network for the next 20 years has called for a debate about how much they are needed, pointing out they create a "noisy unattractive barrier to intra-centre movement".
Motorists in Manchester, Leeds and Glasgow rely on similar urban routes - the A57M, A58M and M8. But do we really need them?
'Almost vandalism'
"Our view is that it is entirely inappropriate to have major roads crashing through the middle of cities," said David Tittle, from the Design Network, which advises on design in urban environments across the country.
He said while such roads were effective at getting drivers directly from one place to another they split areas down the centre, reducing the scope for development and regeneration.
"The more we can do away with them - the better," he said.
Peter Rayner, a fellow of the Chartered Institute of Logistics and Transport and former advisor to the government's transport select committee, said major urban roads through cities "fly in the face of the inevitable".
"In the future we will not have the oil to run cars so it is foolish to have large roads running through city centres," he said. "It's almost vandalism."
Mr Rayner said councils needed to think about moving away from a reliance on such routes and instead concentrate on the development of integrated public transport and tram networks.
There have already been a number of schemes to abolish major urban routes in the US to create extra space.
In Boston, an underground highway was created to replace an elevated six-lane route which previously carried 200,000 cars per day through the heart of the city.
Although the Big Dig project, which also saw the creation of two new bridges over the Charles River, overran by billions of pounds, studies have shown it has already yielded benefits.
A study by the Massachusetts Turnpike Authority said getting rid of the road had encouraged $5.3bn worth of construction projects in the freeway's vicinity which had generated nearly 36,000 new jobs.
Meanwhile in Portland, Oregon, city bosses in 1974 closed the Harbor Drive freeway to make way for a 37-acre park.
The three-mile long highway ran alongside the Willamette River and carried 25,000 vehicles a day.
'Trusted friend'
But a report called the Seattle Urban Mobility Plan said the move had increased land values in Portland from a total of $466m to more than $1.6bn and reduced trips on nearby roads by just under 10%.
Council bosses have already been looking at the long-term future of the A58M in Leeds and the M8 in Glasgow.
Councillor Richard Lewis, responsible for highways at Leeds City Council, said he believed the city could cope without the A58m but said the council would need to do a lot of things to replace it.
"It's a trusted friend," he said. "There may come a time when we don't need it anymore but we would not want to part company with it in a hurry."
Mr Lewis said they were spending £20m to refurbish the east-west link at various sections and said: "I don't want to be spending large sums of money on something that is no longer fit for purpose."
Meanwhile Alistair Watson, executive member for transport at Glasgow City Council, said he would welcome exploration of alternatives to the M8 but said any change would require a "radical overview" of how Glasgow connected to other towns and cities.
And back in Birmingham? Katie Teasdale, from Birmingham Chamber of Commerce, believes the city could survive without its tunnels.
"Yes of course, but there would need to be a genuine alternative in place," she said.
"At the moment they are very important. Yes we want a safer, cleaner, greener city but we also need to make sure people can get from A to B."
But Dr Pat Hanlon, a lecturer in transport economics at the University of Birmingham, could not see the benefit.
"It would create such an accumulation of traffic at the bottom end by Bristol Road... I shudder to think what would happen to all the traffic," he said.
"I would be really worried if they did that."