Airport expansion plans 'ignore England's engine room'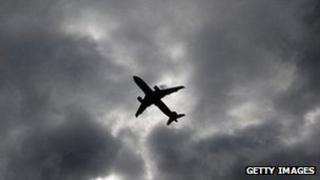 Plans to develop runways at Heathrow and Gatwick airports ignore the "engine room of England", a West Midlands councillor has said.
Birmingham has not been shortlisted in plans to expand runways, a move which city business leaders said was "disappointing".
Bosses at Birmingham Airport said they remained "positive" for future development following the announcement.
Solihull councillor Alan Martin said the region had been let down.
Birmingham's plans for a second runway were put on hold after the Airports Commission's report recommended Heathrow and Gatwick for runway expansion to increase UK airport capacity.
Long-term plans for Birmingham could still be considered by 2050, the report said.
'Not needed'
Mr Martin, the councillor for Bickenhill, said the decision was "typical of the 'London Lobby' who are ignoring the engine room of England to make the south of the country even more crowded".
Jerry Blackett, chief executive of the city's chamber of commerce agreed that the announcement was "disappointing".
"Cities like Birmingham are poised to grow dramatically and we need direct flights to the growth economies.
"However, it's now important that we work on the positive elements of the report and one of the bonuses for Birmingham is that it identifies the importance of surface connections to the future for airports".
A spokesman for Birmingham Airport said they remained positive following the report, which he said had "welcomed our long-term vision" for future development of the site.
However, Jeff Gazzard, of campaign group Airport Watch, said extra runways were "not needed" in Birmingham.
He said the existing airport "serves its area well" and does not have enough demand to justify expansion, adding that the plans were "a bit pie in the sky".
'Economic potential'
Sir Albert Bore, leader of Birmingham City Council and transport lead for the Core Cities, said the report had "failed to address the need for a balanced UK economy".
He added: "We had a once in a lifetime opportunity to reshape our aviation sector and the commission has failed to fulfil its remit to take a 'UK-wide perspective' and in doing so has let down business people across the country".
Labour MP for Dudley, Ian Austin, tweeted: " I'm in the chamber for the govt statement on aviation. Very disappointed that it's so lukewarm on expanding Birmingham Airport".
A spokesman for Marketing Birmingham, the city's strategic marketing partnership, said: "Regional cities like Birmingham have huge economic potential.
"Birmingham has a strong manufacturing sector and a growing export trade.
"It is time for the Government to stop paying lip service and unleash the potential of cities right across the UK".
Lib Dem MP for Solihull, Lorely Burt, said: "It does annoy me that we do not seem to even figure in the report's thinking.
"The more people we have flying to Birmingham, the better it is going to be for the West Midlands economy".