Handsworth leisure centre renamed after Nelson Mandela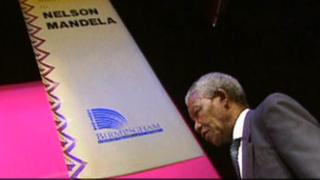 Handsworth leisure centre is to be renamed Nelson Mandela Health and Wellbeing Centre, officials said.
The former president of South Africa came to Birmingham in 1993 when he visited the centre in Holly Road.
Mr Mandela died on 5 December aged 95. His body was laid to rest on Sunday following a state funeral service.
The renaming announcement was made by the city council at a cabinet meeting. It will be officially changed at an event in February.
'Tangible tribute'
Members of the cabinet held a minute's silence, followed by words from the leader and deputy leader.
Ian Ward, deputy leader, said: "Also on that visit in 1993, Nelson Mandela visited Handsworth leisure centre, again drawing huge crowds.
"And in a tangible tribute to a much-loved world leader, who fought for the freedom of his fellow man and at great personal cost to himself, we are delighted to announce that we will rename Handsworth leisure centre, 'The Nelson Mandela Health and Wellbeing Centre'.
"Our plan, which is yet to be worked up in detail, is to hold a formal renaming and celebration event at the Holly Road centre on 11 February next year, which will commemorate the date in 1990 when Nelson Mandela was released from prison after 27 years."