'Bunny girl' hunt over Moor Street train assault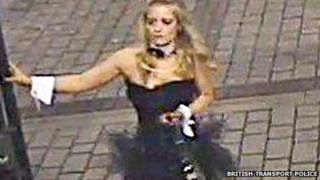 A woman dressed as a bunny girl is among four people wanted by police after an assault on a train.
British Transport Police has issued CCTV pictures of the woman and three men after 12 friends from Worcester were attacked in Birmingham.
Police said the group had boarded the 06:10 GMT service from the city's Moor Street station on 2 November.
Their attackers later got off at Old Hill rail station in Warley in the West Midlands, police said.
PC Brendan Gilbride, from British Transport Police, said it was shortly after getting on the train that "members of the group were subjected to an unprovoked assault by another group who were on the same train".
He said: "The train driver managed to split the two groups up and the victims left the train.
"Inquiries have been ongoing to trace those responsible...we believe all four [in the photographs] will have key information which can assist the investigation."