Rooney and Ali items sold in Tommy Scragg auction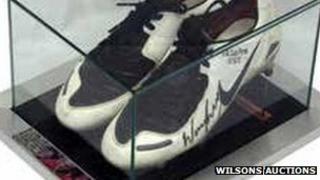 Boots worn by Wayne Rooney in the 2007 FA Cup final and a pair of Muhammad Ali's shorts, both owned by a criminal, have been sold by police at auction.
The items had belonged to Thomas 'Tommy' Scragg, from Solihull, West Midlands, who was jailed for 17 years in 2012 for his part in a £34m fraud.
They were seized along with other items from Scragg under the Proceeds of Crime Act.
Rooney's boots sold for £2,000 and Ali's shorts for £2,500.
The items were sold at an auction in Newtownabbey, near Belfast.
Police said the money raised from the auction will be used for public spending.
Scragg's Wolverhampton-based businesses stole tax through PAYE and VAT payments between 2002 and 2008.