Birmingham Children's Services in £10m improvement plan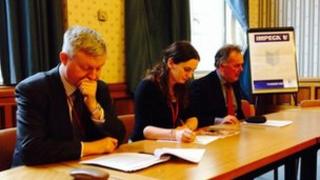 Birmingham City Council says nearly £10m will be pumped into children's services after a councillor admitted the authority had been "failing children for five years".
The department has faced severe criticism after several deaths, including that of Keanu Williams.
The authority said it had considered five options and settled on a partnership between agencies.
It came hours after the prime minister warned a takeover was still an option.
Speaking to BBC WM, David Cameron said: "No decisions on the future of Birmingham Children's Services have yet been made... but where we've had to step in in the past, in other cities, we have done so. So the council should be clear that is an option.
"It has been taken for instance in Doncaster and so they [the council] have to be clear that if they don't sort things out, that could happen."
'Silo approaches'
Birmingham City Council said it would create a partnership with other agencies, meaning children would be served by teams based across the city.
The British Association of Social Workers said it was looking forward to seeing details on how services would be brought together and who would be included in the teams.
Maris Stratulis, England manager at the organisation, said: "We know from serious case reviews across the country that a lack of communication, information sharing and partnership between different agencies have been key themes."
Leader Sir Albert Bore said that in the past different organisations had had "silo approaches" and needed to be brought together under a system the council referred to as "integrated transformation".
Ofsted has rated Birmingham's children's services inadequate since 2009 and the latest inspection was cancelled to allow a government review into the authority's plans to improve the department.
'National disgrace'
Serious case reviews following the deaths of Kyra Ishaq in 2008, and Keanu Williams in 2011 were highly critical of all organisations involved in safeguarding children in Birmingham.
In October, Ofsted's chief inspector Sir Michael Wilshaw branded child protection services in Birmingham a "national disgrace".
He said infant mortality rates were "on a par with Latvia and Chile".
Birmingham City Council said it planned to focus on the recruitment and retention of social workers, working with partners and improving its commissioning of services.
It said it would spend almost £10m on the plans in 2014-15, with a further £6m a year thereafter for the foreseeable future.
Annie Hudson, chief executive of The College of Social Work, welcomed the news and said investment in the workforce was "crucial to keeping children safe in Birmingham and indeed all local authorities".
Peter Hay, in charge of the local authority department, said the money would come "from council savings elsewhere".
'Rapid action'
Earlier this week, Birmingham City Council announced plans to cut more than 1,000 jobs as part of £840m savings measures, although it said children's services would be protected.
Mr Hay said the latest proposals, which are due to go before cabinet on 16 December, went much further than "an elaborate makeover".
Khalid Mahmood, MP for Perry Barr welcomed the plans, which he said were "heading in the right direction".
"We couldn't have broken it all up into different sections. What we can do is localise it, which is what they're going to do," he said.
He added that it would take some time before the extra investment started to take effect and the success of the plans could be measured.
Speaking earlier, David Cameron said the council needed "to take action fairly rapidly".
He said: "I don't want to see national government have to step in over services that should be run locally, but clearly they've got to improve their performance."