Walsall meningitis: Boy dies after contracting disease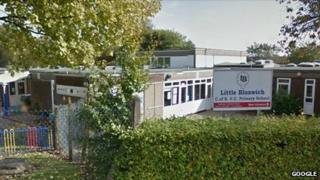 A schoolboy from the West Midlands has died after contracting meningitis.
The seven-year-old, who was a pupil at Little Bloxwich primary school in Walsall, died in hospital on Monday.
Public Health England said it was investigating "a case of meningococcal disease". It said close contacts to the child had been given antibiotics.
Walsall Council said it was working with the boy's parents and advice letters had been sent to parents of pupils at the school.
The council said it wanted to reassure people that while this was a tragic case, it was very rare.
Chair of health scrutiny at Walsall Council, Marco Longhi, said he was "highly shocked".
He said: "My thoughts are with the family of the young boy at this sad time but, in time, we will clearly investigate where he contracted the disease and what treatment he received.
"We will be seeking reassurances from Public Health England that the disease is contained but the most important thing at the moment is that the family are supported as best as possible."
'Aware of symptoms'
Parents and carers who want more information are being directed to the Meningitis Now website.
Public Health England said it was working with the council and school to provide parents with information.
Its website says when the two conditions of meningitis and septicaemia come together this, when caused by meningococcal bacteria, is known as meningococcal disease.
Although Bexsero, a vaccine for meningitis B, has been granted a UK licence, it is not available on the NHS.
In a separate case a child died from bacterial meningitis in Berkshire earlier this week.